Submitted by
NYMBC
on Tue, 09/29/2015 - 1:19pm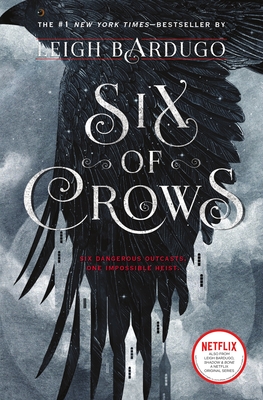 "Writing a heist is like trying to put together a jigsaw puzzle when you've never seen the front of the box."
Leigh Bardugo, author of the Grisha Trilogy, set out on her book tour this week, but was nice enough to answer a few questions about her new book Six of Crows, which takes place in the same universe as the original trilogy.
Q: In Six of Crows, you write from multiple characters' points of view, was it difficult to develop a different voice for each character?
A: Some characters stepped on stage talking very loudly. Others were a little bit more coy. It usually takes a couple of drafts for me to really settle into a voice the way I want to. Music really helps with that too. Whenever I wrote Kaz's chapters, I'd cue up "Sinister Kid" by the Black Keys.
Q: Who was your favorite character to write?
A: Oh, definitely Matthias. He's just so intense about everything—very formal, very dedicated to remaining in control, but with all of these emotions he has no idea what to do with.
Q: Did you struggle with deciding which POV to write an event through or did it flow naturally?
A: For the most part, it was a pretty organic process. The first draft—and it was extremely rough—came together very quickly, and when I would reach the end of a scene, it was as if another character would step forward and say, "Oh, I've got this."
Q: There are so many pieces working together in Six of Crows to create the crazy twists and turns, how did you keep it all straight?
A: By any means necessary. I wrote in Scrivener and Word. I outlined. I wrote longhand. I made charts on a whiteboard. I even put the big heist sequence in my Google calendar in fifteen minute increments. Writing a heist is like trying to put together a jigsaw puzzle when you've never seen the front of the box.
Q: If Six of Crows were made into a film, who would you like to see cast?
A: This is always such a hard question! I've seen readers cast Joseph Gordon Levitt and Cillian Murphy as Kaz and I like both of those options. I think Kat Dennings and Hayley Atwell could both bring something special to Nina. Anthony Mackie would be great as Jesper. Nidhi Sunil was cast as Inej in a fanmade trailer and she looks very much the way I imagined Inej, though I don't know if she can act.
Q: Is it weird seeing Tumblr posts about your books?
A: Depends on the post. Do you know how long it took me to figure out the cinnamon roll meme?
Q: If you could meet any author, who would it be and why?
A: Probably J.K. Rowling. I feel like she would be just as delightful as she seems, intimidating but kind. Also, she has a castle. But if I could go back in time, Diana Wynne Jones.
Q: Do you have an ideal writing atmosphere?
A: I love writing retreats. I am never more productive than when I'm in a room full of other writers, all of us tapping away on our laptops, and occasionally sticking our heads up to ask if anyone wants coffee. A good view helps too. I was just at a house that was right on the sand. All you could hear was the waves. We'd work all day, then go jump in the sea. It was perfect.
Q: Coffee or Tea?
A: COFFEE OR PERISH.
Six of Crows was released today, September 29th, and is available to purchase in store! If you want to learn more about Leigh and Six of Crows, stop by Books Inc Opera Plaza on Oct. 4th at 2 p.m. for an author presentation, book signing, and a fun scavenger hunt!