Submitted by
NYMBC
on Wed, 02/11/2015 - 11:58am
Dan Gemeinhart lives in a small town smack dab in the middle of Washington state with his wife and three young daughters. He's lucky and grateful to be a teacher-librarian in an elementary school, where he gets to share awesome books with awesome kids. He loves camping, cooking and traveling. He also plays guitar (badly) and reads (constantly). His house is always a mess. He is really pretty darn happy.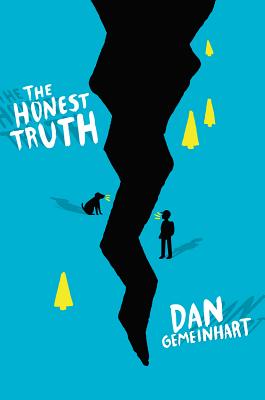 In all the ways that matter, Mark is a normal kid. He's got a dog named Beau and a best friend, Jessie. He likes to take photos and write haiku poems in his notebook. He dreams of climbing a mountain one day.
But in one important way, Mark is not like other kids at all. Mark is sick. The kind of sick that means hospitals. And treatments. The kind of sick some people never get better from.
So Mark runs away. He leaves home with his camera, his notebook, his dog, and a plan to reach the top of Mount Rainier--even if it's the last thing he ever does.
The Honest Truth is a rare and extraordinary novel about big questions, small moments, and the incredible journey of the human spirit.
1. What was your inspiration for The Honest Truth?
I wrote The Honest Truth in memory of a friend of mine who died of cancer. He was also named Mark, and he was my sister's fiancee. He was a wonderful guy - the kind of guy that would drop whatever he was doing to help someone else. He loved books (he worked at an indie bookstore) and mountain climbing; he climbed peaks all over the world, including Mt. Rainier (which figures prominently in the book). I wrote this book in his honor, but I really tried to make it a triumphant adventure story, not a morose tragedy. I didn't want it to be a "cancer book," because cancer isn't what I think about when I think about Mark. I think about his spirit, about loyalty and friendship and living - and that's what I wanted the book to really be about.
2. Is Mark at all influenced by how you were as a kid?
Not really - Mark is a pretty angry kid (for lots of good reasons), and he's bold and brave and pretty darn tough. I was very much a shy, quiet, introverted kid. If I'd ever turned up missing like Mark it is infinitely more likely my parents would have found me curled up in a quiet place somewhere reading - not climbing a mountain in a blizzard. I had to imagine how a kid in Mark's shoes would have felt, what traits he would have to have in order to pull this adventure off, and then I tried to construct a character that was inspiring but believable and "real."
3. Mark's dog is incredibly loyal to Mark throughout their entire journey. Did you have any pets like his when you were a kid?
I'm a total animal lover, and I kind of define the different eras of my childhood by what pets we had at the time. But, boy...Beau is pretty darn special. He's definitely not based on any one dog that I've had, but in some ways I think that almost every dog has that kind of greatness inside them. If you treat them right and give them your love and loyalty, they give it right back tenfold. It's pretty amazing. So although Beau is not cut whole-cloth from a dog I've known, you could definitely say he's kind of a stand-in for the greatness of all the dogs I've known.
4. A portion of your book is written from Jessie's point of view, what made you decide to include her story as well?
I really struggled with how to write this story. I started (from scratch) three different times, trying different voices and perspectives, and I just couldn't figure out how to tell Mark's story in an immediate, emotional way but still tell the story of his friend and family back home. I thought that home piece was really important to the heart of the story, and to its themes. Without the perspective of Mark's parents and Jessie, the story just didn't sing; it was too dark and constant, and it felt unbalanced. Mark is angry, but we need to see why he's angry, and we need to see him through the eyes of the people that love him so we can better understand him. Finally I hit on this split chapter idea: the main chapters from Mark's perspective, with shorter "half chapters" between them (in 3rd person) showing what was happening at home. As soon as I tried it, I knew I'd finally found the way to tell this story.
5. Have you ever climbed Mt. Rainier yourself?
I have not! I do a lot of camping and backpacking and I've visited Mt. Rainier several times, but I've never actually summited her. I have climbed Mt. St. Helens, but that's really just a long, steep hike in bad weather.
6. If you weren't an author, what would be your dream job?
I'm lucky in that I already have both my dream jobs: I'm a writer and an elementary school teacher-librarian. I get to work with books and kids and kids' books all day (and all night, sometimes), so I'm pretty darn happy. My third dream job, though, would be to work at a great bookstore. So, either way: I'm with books.
7. If The Honest Truth were turned into a movie, who would you cast?
Hmmm...fun question. For the two main parts (Mark and Jessie), I'm not sure...I don't know too many child actors. Let's just say definitely not Justin Beiber. Although, if we had a time machine at our disposal, wouldn't a 12 year old Leonardo DiCaprio be amazing? And for Jessie (also with a time machine), Shelbie Bruce (the girl from Spanglish) would be perfect. And for Wesley, a small but important minor character, I always pictured him looking exactly like Sam Elliott.
8. Are you a pantser or a plotter?
I'm an unhappy mix. I'm a half-pantser who wishes he plotted more, and/or a lazy plotter who wishes he would just relax and let the story flow. I usually make a pretty rough outline with lots of holes (like, the entire middle third) and then it starts to fall more rigidly into place as I write. I'd say that at the time I sit down to start writing a book, I know about 50% of what's going to happen - then it's just a matter of finding the flow and connecting the dots of the parts you know. It's a weird process, for sure.
9. What's your ideal writing ambiance?
Night time. Dark. Everyone else in bed. Sometimes some mood-appropriate (fast, or pensive, or sad, depending on the scene I'm writing) instrumental music playing - never any music with words, and a lot of times just silence. I sit on my couch with my feet up, my computer on my lap, and maybe one lamp on for some dim lighting. I love it.
10. Who was your literary crush growing up?
Oooooh...literary crush, huh? I went through some serious binge phases: Hardy Boys, Louis L'Amour, Narnia, Stephen King, Narnia, John Steinbeck, Hemingway. My hands-down favorite poet is e.e. cummings (he owns a fair amount of real estate in my soul). I became enraptured with A River Runs Through It in high school - a vastly under-appreciated book - and read it seven times. Since college, my favorite "grown up" author has been Jose Saramago. And that's just the tip of the iceberg. Basically, when it comes to literary crushes, I'm a really promiscuous serial monogamist.
And head over to Books Inc. Palo Alto on Sunday, February 22nd at 6pm for a special evening of truths with Dan!