Submitted by
NYMBC
on Sat, 02/07/2015 - 1:23pm
Victoria Aveyard was born and raised in East Longmeadow, Massachusetts, a small town known only for the worst traffic rotary in the continental United States. She moved to Los Angeles to earn a BFA in screenwriting at the University of Southern California, and stayed there despite the lack of seasons. She is currently an author and screenwriter, using her career as an excuse to read too many books and watch too many movies.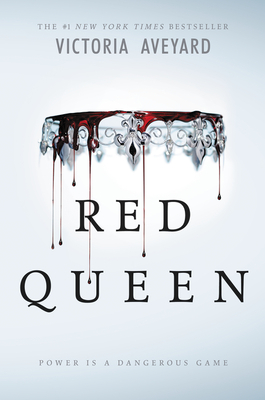 Graceling meets The Selection in debut novelist Victoria Aveyard's sweeping tale of seventeen-year-old Mare, a common girl whose once-latent magical power draws her into the dangerous intrigue of the king's palace. Will her power save her or condemn her?
Mare Barrow's world is divided by blood--those with common, Red blood serve the Silver- blooded elite, who are gifted with superhuman abilities. Mare is a Red, scraping by as a thief in a poor, rural village, until a twist of fate throws her in front of the Silver court. Before the king, princes, and all the nobles, she discovers she has an ability of her own.
To cover up this impossibility, the king forces her to play the role of a lost Silver princess and betroths her to one of his own sons. As Mare is drawn further into the Silver world, she risks everything and uses her new position to help the Scarlet Guard--a growing Red rebellion--even as her heart tugs her in an impossible direction. One wrong move can lead to her death, but in the dangerous game she plays, the only certainty is betrayal.
1. Where did your inspiration for THE RED QUEEN come from?
I first decided I was going to try and write a novel towards the end of my senior year of college. Of course, I tried to write one for years, but never came close to finishing. Now I had a few screenplays under my belt and I was ready self-published novels for the producer I was interning for. It sort of pushed me to want to write my own again, and I started brainstorming. The image of a teenage girl about to be executed, but who suddenly defends herself with her own burst of lightning, came to me during this period, and RED QUEEN grew out of this idea.
2. The setting for RED QUEEN is a mixture of "old and new" in a sense. How did you create the world of Norta?
I've always been in love with the amazing fantasy worlds of THE LORD OF THE RINGS, HARRY POTTER, and A SONG OF ICE AND FIRE, but knew I'm nowhere near the skill level of creating something with 1/10th of that depth. So I worked to find the happy medium, a place of strangeness as well as familiarity. There are flairs of dystopia, flairs of second world fantasy, and I hoped to find a balance between the two. Plus I just loved playing with the contrast of a very feudal society that also was technologically advanced and full of superhumans.
3. Were any of your characters based off of people you know?
The character of Farley was definitely inspired by one of my best friends. Not necessarily in character, but the conception (name and appearance wise) came from her. And of course, the family dynamics, particularly the best parts of Mare's parents, come from my own family and parents.
4. Is there anything you wish you could go back and change now that the book is out?
Just because I'm a worldbuilder, I'd want to go back and flesh out the book even more than it already is, probably for the worse. But it would just be fun to dig deeper into what's already there, adding characters and showing more of the world.
5. What do you typically read while you're writing? Do you avoid certain genres?
When I'm drafting RQ books, I tend to steer away from YA books. Mostly because reading another book in the genre just makes me want to work on my own, so I would never finish reading anyways. So I mostly stick to high fantasy and historical fiction when I'm working. Currently I'm in book 2 of Ken Follet's Century Series and about to start The Plantagenets by Dan Jones.
6. You're visiting Books Inc. on Valentine's Day, so share your most romantic story with us!
My family and I were on this Transatlantic cruise when I was about 18. My boyfriend at the time was with us and, honestly, he was a complete jerk. I don't know what we were doing together. Luckily I met another guy onboard, this kid from Wisconsin. He helped me out of a really bad spot and over the next few days it was a sickening, immediately falling in love situation. He was an amazing artist and he encouraged me to pursue my own passions and dreams. Of course, the night I planned to tell my family and break up with my boyfriend (admittedly not the best idea on a long voyage), the ship hit an iceberg and sank. Wisconsin kid didn't make it. I survived on a floating door.
7. Are you a panster or a plotter?
I'm always rearing to go, almost to a fault, so I'm a panster at heart, but ultimately I have to make myself plot and outline. But I don't outline very intensely. Usually 3-5 pages to outline an entire novel, and most of the time I go off outline by the time I'm into act 2. Sticking to a strict, preordained structure doesn't work for me or the characters, so when they go off what I've envisioned, I'm all forward. My usual rule is to know how it starts and know how it ends. Act 1 and 3 I know very, very well, before I really dig in.
8. Coffee or tea?
Coffee. I'm not a tea person at all.
9. Favorite movie? TV show? Band?
I went to film school so I could write you pages about my favorite movies (Lord of the Rings, Star Wars, Indiana Jones, ET, etc.) and television shows (Battlestar Galactica, LOST, Friday Night Lights, Game of Thrones, 24, Band of Brothers, Mindy Project, Seinfeld, The Simpsons). As for music, my favorite artist of all time is Bruce Springsteen. And, being from Massachusetts, I'm a diehard Boston sports fan. GO PATS SUPER BOWL CHAMPS AGAIN. BR4DY.
Victoria will be at Books Inc. Burlingame on Saturday, February 14th. That's right, Valentine's Day!!! Come meet her and ask all those questions that we're answered here!

And don't forget to enter our celebratory giveaway for a box of ARCs HERE!