Submitted by
NYMBC
on Sat, 11/15/2014 - 2:24pm
Black Ice by Becca Fitzpatrick
Publication Date: October 7th, 2014
Publisher: Simon & Schuster Books for Young Readers
Page Count: 400 pages
Genre: Action/Adventure, Mystery
Danger is hard to resist in this sexy thriller from Becca Fitzpatrick, the "New York Times "bestselling author of the Hush, Hush saga.
Britt Pheiffer has trained to backpack the Teton Range, but she isn't prepared when her ex-boyfriend, who still haunts her every thought, wants to join her. Before Britt can explore her feelings for Calvin, an unexpected blizzard forces her to seek shelter in a remote cabin, accepting the hospitality of its two very handsome occupants--but these men are fugitives, and they take her hostage.
Britt is forced to guide the men off the mountain, and knows she must stay alive long enough for Calvin to find her. The task is made even more complicated when Britt finds chilling evidence of a series of murders that have taken place there...and in uncovering this, she may become the killer's next target.
But nothing is as it seems, and everyone is keeping secrets, including Mason, one of her kidnappers. His kindness is confusing Britt. Is he an enemy? Or an ally?
"Black Ice" is "New York Times "bestselling author Becca Fitzpatrick's riveting romantic thriller set against the treacherous backdrop of the mountains of Wyoming. Falling in love should never be this dangerous...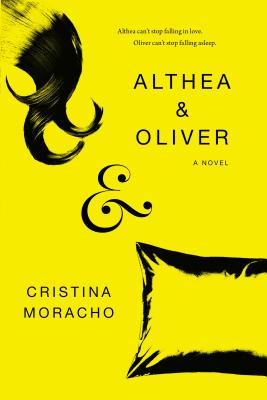 Althea & Oliver by Cristina Moracho
Publication Date: October 9th, 2014
Publisher: Viking Children's Books
Page Count: 364 pages
Genre: Contemporary Fiction
What if you live for the moment when life goes off the rails and then one day there's no one left to help you get it back on track?

Althea Carter and Oliver McKinley have been best friends since they were six; she's the fist-fighting instigator to his peacemaker, the artist whose vision balances his scientific bent. Now, as their junior year of high school comes to a close, Althea has begun to want something more than just best-friendship. Oliver, for his part, simply wants life to go back to normal, but when he wakes up one morning with no memory of the past three weeks, he can't deny any longer that something is seriously wrong with him. And then Althea makes the worst bad decision ever, and her relationship with Oliver is shattered. He leaves town for a clinical study in New York, resolving to repair whatever is broken in his brain, while she gets into her battered Camry and drives up the coast after him, determined to make up for what she's done.

Their journey will take them from the rooftops, keg parties, and all-ages shows of their North Carolina hometown to the pool halls, punk houses, and hospitals of New York City before they once more stand together and face their chances. Set in the DIY, mix tape, and zine culture of the mid-1990s, Cristina Moracho's whip-smart debut is an achingly real story about identity, illness, and love and why bad decisions sometimes feel so good.