Submitted by
NYMBC
on Mon, 04/27/2015 - 8:56am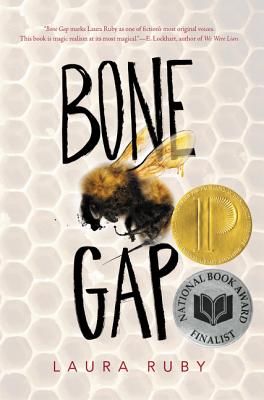 Bone Gap by Laura Ruby
Publication Date: March 3rd, 2015
Publisher: Balzer & Bray
Page count: 368 pages

Bone Gap is the story of Roza, a beautiful girl who is taken from a quiet midwestern town and imprisoned by a mysterious man, and Finn, the only witness,
who cannot forgive himself for being unable to identify her kidnapper.
As we follow them through their melancholy pasts, their terrifying presents, their uncertain futures, acclaimed author Laura Ruby weaves a heartbreaking tale of love and loss,
magic and mystery, regret and forgiveness--a story about how the face the world sees is never the sum of who we are.
Bone Gap is something we've been pushing on people since it came out and we'll continue pushing it on people until everyone in the world loves it as much as we do.
We're not the only ones who feel this way either, we know PLENTY of people who are also obsessed! READ IT NOW OKAY!