Submitted by
NYMBC
on Wed, 05/27/2015 - 9:45am
Laura Ruby writes fiction for adults, teens and children. She is the author of the newly-released YA novel Bone Gap, as well as the Edgar-nominated children's mystery Lily's Ghosts, the ALA Quick Pick for teens Good Girls (2006), a collection of interconnected short stories about blended families for adults, I'm not Julia Roberts (2007), and the forthcoming middle-grade trilogy York. She is on the faculty of Hamline University's Masters in Writing for Children Program. She makes her home in the Chicago area.
1. Bone Gap is a town with a very Southern atmosphere. Corn fields line the outskirts of town, Petey raises bees and harvests their honey, and the people are all connected in one way or another. Where did you pull your inspiration for such a setting? Did you grow up in the South, or even the Midwest? How much of this world was taken from your own?Remember that old adage, write what you know? I….didn't do that. I grew up in a large burb in northern New Jersey and had no experience with farms or gardens—we didn't even have houseplants because my mom always forgot to water them and the poor things just curled up and died. It wasn't until I moved to the Chicago area (my husband is a gardener) and started doing school visits in rural Illinois that I became acquainted with Midwestern friendliness, the joys and perils of small town life and the general creepiness of cornfields.
That said, though I personally didn't have much of a connection to the land, my dad did. My grandfather had a farm and boarded horses. I used my dad's stories of that farm as a foundation for the character of Charlie Valentine in the book
2. Every character has their own story, their own history - an event (or events) that changed their path in life. For Sean and Finn, that event is the loss of Roza in a very abrupt and uncertain way. For Petey, it's the sudden yet unsteady appearance of Finn in her life. What event (or events) helped shape your path as a writer?I'd say that some the most significant events that shaped Sean's, Finn's and Petey's lives happened long before the story begins; all of them were abandoned by at least one of their parents. Abandonment like that can make you lonely and suspicious, mistrustful even of the most trustworthy people. All of them were wounded.
I think that most people are shaped by events that happened when we're very young. The most significant thing that shaped me as a writer was becoming a reader. I have vivid memories of my mother taking me to the library and both of us walking out with stacks of books going all the way up our arms. (When I was done with my own books, I would often plow through hers). The fact that a story could transport me, transfix me, entrance me so completely was magical to me. I wanted to be able to perform the same tricks that these writers did.
Other events that shaped me: the encouragement of some of my favorite teachers and the active discouragement of some others. One woman in particular stands out: she was the leader of a special creative writing class I took in high school. She hated, hated, hated my stories (which were often full of monsters and angry ghosts and sad girls in insane asylums. She preferred rhyming poems about bunny rabbits and rainbows). Her irritation with me and her disdain for everything I wrote just made me more determined to keep going. I'm stubborn that way.
3. Bone Gap is told from multiple perspectives. Who was your favorite character to write from? What about your least?
I love them all! As a matter of fact, there were even more perspectives in earlier drafts of the novel: Babcia's point-of-view, Calamity Jane's point-of-view, even the point-of-view of one of Petey's beehives. I was so sad when I had to cut them.
4. Bone Gap is made up of several different genres ranging from magical realism to mystery/thriller. How much research did you have to do to put all of these pieces together?
While I was writing and revising Bone Gap, I referred to it as "that weird book." I was aware I was playing with elements of various genres but I was doing it out of love for them all, and love for other books that seem to operate outside of the restrictions/expectations of genre (books by Kelly Link, Nova Ren Suma, Nnedi Okorafor). I like writing YA for that reason. Teen readers don't have the same rigid notions of what a book should be.
5. What are you working on now?
Too many things! A middle-grade trilogy that combines elements of alternate history, science fiction and fantasy. A YA historical ghost story set in Chicago mostly in the 1930s and 40s. Another YA that is sort of a mirror image of Bone Gap in that a beautiful girl goes missing, but it is her shy and awkward sister who must go on a long journey to save her. Not sure which one will bewitch me into finishing first.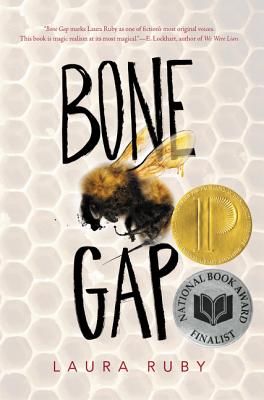 Bone Gap is the story of Roza, a beautiful girl who is taken from a quiet midwestern town and imprisoned by a mysterious man, and Finn, the only witness, who cannot forgive himself for being unable to identify her kidnapper. As we follow them through their melancholy pasts, their terrifying presents, their uncertain futures, acclaimed author Laura Ruby weaves a heartbreaking tale of love and loss, magic and mystery, regret and forgiveness--a story about how the face the world sees is never the sum of who we are.