Submitted by
booksinckids
on Fri, 07/24/2015 - 12:43pm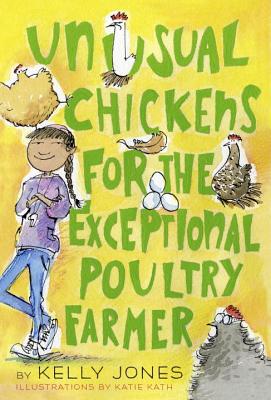 Unusual Chickens for the Exceptional Poultry Farmer by Kelly Jones
Publication Date: May 12, 2015
Publisher: Alfred A. Knopf Books for Young Readers
Genre: Middle Reader
Ages: 8-12
Fans of Polly Horvath or Roald Dahl will love this quirky story of a determined girl, and some extraordinary chickens. Told in letters to Sophie s "abuela, " quizzes, a chicken-care correspondence course, to-do lists, and more, "Unusual Chickens" is a quirky, clucky classic in the making.
When Sophie and her family move from the city to the farm they've inherited, they worry that they aren't cut out for country living. While her parents struggle to make ends meet, Sophie explores the farm -- and begins to find chickens that would give even the most weathered farmer a run for her money. Determined to make the most of her new life, Sophie dives headfirst into the care and keeping of chickens, unusual and otherwise. Half the joy of the book is waiting to see what powers the next chicken will have, and they never disappoint. Kelly Jones has created a coop with abilities as varied as the cast of a Marvel comic book.
Even better, the book's human cast is just as diverse as its superpowered chickens. Numerous skin tones, racial identities, and romantic orientations exist in the world of the book, and it's refreshing to see a children's author recognize the importance of positive representation. Sophie is bold and inquisitive, with a strong sense of responsibility and loyalty. Her family's financial struggle feels real, and helps ground what is often a very silly story. Katie Kath's gorgeous illustrations bring the world and characters to life, and remind me of some of children's literature's all-time greats. It's a beautiful book, and one I can't wait to share with the young readers in my life.
Reviewed by David at Books Inc. in Berkeley