Submitted by
booksinckids
on Wed, 02/11/2015 - 3:48pm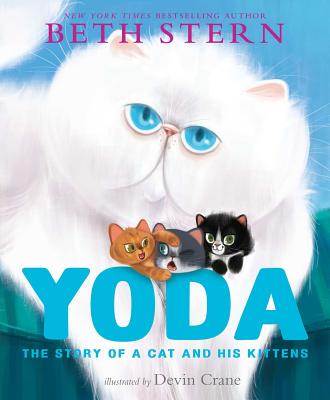 Yoda: The Story of a Cat and His Kittens by Beth Stern & David Crane, Illustrated by K. A. Alistir
Publication Date: November 18th, 2014
Publisher: Aladdin Paperbacks
Genre: Picture Books
Ages: 4-8
From the author of the "New York Times "bestselling "Oh My Dog" comes the true story of Yoda, a very special cat--and adorable Instagram sensation--rescued by Beth and Howard Stern.
When Beth first met Yoda at the animal shelter, he was skinny and his fur was matted. He hid in the back of his cage and wanted nothing to do with anyone. But Beth chose Yoda. She took him home, cleaned him up, and gave him love.
Beth fosters kittens, too, and before long Yoda discovered them--and his life purpose. Now he's happy, and fluffy, and very, very busy. He makes sure the orphan kittens eat, he keeps them safe, and he even cleans up after them. Yoda acts like a father" and" mother to the foster kittens that fill his home, and taking care of others has helped him too: even though Yoda has a serious heart condition, he's made a miraculous turnaround, and is healthier than doctors thought he could be.
To further the important work that Beth does on behalf of animals, all of her proceeds from this book will be donated to North Shore Animal League America's Bianca's Furry Friends campaign.
Beth Stern, wife of Howard, is a very involved animal adoption activist. She first met Yoda, a Persian cat, at the animal shelter. He was skinny with matted fur and had a bad heart. His prognosis was bleak. He didn't think he would ever be adopted. He watched as all the other cats went to new homes. Beth fosters kittens at her home. She took a liking to Yoda and adopted him. Shortly after adopting him, he heard a big commotion in another room. He went to investigate and what should he find but KITTENS! He took it upon himself to be their adopted Dad. He looked after them,cleaned them, taught them how to be safe and to groom themselves. All of this gave Yoda a new purpose and lease on life. His spirit and his health started to improve. He is still going strong, is happy, loved by his family and the kittens are loved by Yoda.
All proceeds from the sales of this book will be donated to North Shore Animal League America's Bianca's Furry Friends Campaign. North Shore Animal League America is the largest no-kill,rescue, and adoption organization in the World.
Reviewed by Dori at Books Inc. Mountain View