Submitted by
booksinckids
on Wed, 01/20/2016 - 10:32am
Earlier this month, we included the newly released book, A Birthday Cake for George Washington, in a couple posts, even one about diversity. The book has since been pulled from publication by it's publisher, Scholastic due to "problematic" portrayals of slaves.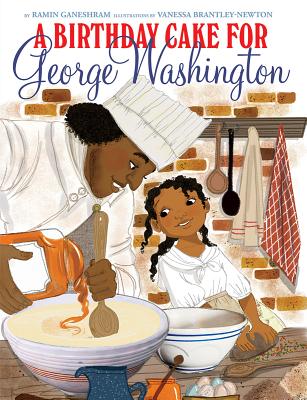 A Birthday Cake for George Washington is the story of Hercules, one of Washington's slaves and cook, and Hercules' daughter, Delia, happily baking a cake for George Washington's Birthday. The controversy is the depiction of Hercules and Delia as happy "servants", which, as Scholastic stated in their announcment, "may give a false impression of the reality of the lives of slaves". Critics are concerned that the story is "an offensively sanitized version of the institution of slavery." Scholastic originally defended the book and author, Ramin Ganeshram, but have since reversed their position.
"We do not believe this title meets the standards of appropriate presentation of information to younger children, despite the positive intentions and beliefs of the author, editor and illustrator," it said in a statement.
To read more about the book, controversy, and Scholastaic's decision, check out the articles we used as sources, the New York Times and BBC.
Books Inc. apoligizes if we have offended any of our readers by including A Birthday Cake for George Washington in our posts and email blasts.